Hypoallergenic dog food is the remedy to cure your stubbornly itchy dog. This is what the
 scientists
 at the Faculty of Veterinary Medicine, Utrecht University, has found out Consequently, Cutaneous adverse food reaction or CAFR is the name given by scientists to the dogs suffering from skin problems due to food.
The Study
There was conflicting remedy mentioned for the hypoallergenic dog in the literature of veterinary medicine. Therefore, research conducted to find out the cure for CAFR with certainty. Hence, Extensive research was carried out in the Faculty of Veterinary Medicine, Utrecht University, Netherlands. To find a cure for CAFR. This study was conducted by
Esther A. Hagen-Plantinga
,
W.H.
Hendriks. 
24 adult dogs with CAFR were enrolled in this study.  They did this study by challenging 12 dogs with commercially available dog foods and 12 with hypoallergenic dog food.
Results
No changes noticed among dogs with commercial kibbles. Among 12 dogs eating hypoallergenic dog food, 6 recovered from CAFR. Additionally, this was later proved to be true by serological testing of blood. Irrespective of scientific studies, Dog owners around the world are already aware of CAFR. As a matter of fact, it is not uncommon to find a labrador suffering from recurrent itching, a pug with a smelly ear infection. Undeniably,  You must have heard of a dog pooping every time he eats. In fact, Dog food allergies are more common than we think. This true for the most part of this world except U.S.A where the allergic dog is overrated.
"Pet owners are increasingly aware of food sensitivities than ever in people—and that diet plays a role in skin health "according to Dr. Emi Saito, senior manager of veterinary research programs at Banfield "Many are led to believe their itchy dog may also be suffering from a food allergy. Banfield Pet Hospital data supports that food allergies in our pets are uncommon, and other causes of certain skin conditions should be investigated before pursuing a food allergy diagnosis".
Common signs of Dog food allergies
hair fall
Otitis- ear inflammation
recurring Pyoderma, seborrhea or urticaria
Additionally, the above signs may be accompanied by vomiting, diarrhea, flatulence.
Diagnosis and cure - food trials
Yes, diagnosis and cure both are same. As a standard protocol, hypoallergenic dog food trials are done for diagnosis and cure.
Which hypoallergenic dog food is best!
The term Hypoallergenic dog food is deceiving.
According to the Journal of American Veterinary Medical Association
,
Most diets incorporated marketing terms such as digestive health, sensitive, or premium that are poorly defined and may have limited relevance to the skin, coat, or general health. 
According to research done by
Lily N.

 

Johnson

, 

DVM Department of Clinical Sciences
, Cummings School of Veterinary Medicine, Tufts University, North Grafton, MA 01536- The large variation among over-the-counter diets marketed for skin and coat health may cause confusion for owners during diet selection.
The scientific approach to dog food allergies
On the basis of the current understanding of food allergy, if a food allergy is suspected due to some food ingredients, that food item should be eliminated from dog diet. for example in chicken allergy is suspected in some, it is best to avoid chicken that dog diet. Some companies claim to give hydrolyzed protein in the diet will reduce food allergy, but in reality,
avoiding that particular food ingredient is best no matter hydrolyzed or not. 
To reduce this confusion we have listed some hypoallergenic dog food that is popular. As explained in the above paragraph, read the ingredient of hypoallergenic dog food available commercially and then decide what is best for your dog.
This food as they claim can cure inflammatory bowel disease. Specially formulated diet is broken into tiny components so that they do not cause bowel allergy. contains omega-3 which helps in the anti-inflammatory process. This idea is supported by various scientific studies published in the
Journal of AVMA
. Hydrolyzed diets are typically considered highly digestible and have a low fiber content. Criticism of hydrolyzed diets includes that they have a high osmotic level. This makes dog's feces soft and in some cases may result in osmotic diarrhea.
The company claim to provide wholesome nutrition and contains no artificial colors or flavors, no dairy, no soy, and no added wheat. The logic behind Harrington special diet is to
eliminate the allergenic dog food ingredient
and to limit the ingredients to a particular type of ingredient. Thereby, reducing dog allergy. For example, if your dog is allergic to chicken
Grain-free dog food with Salmon
might be a good idea. This is why this special diet comes in three variants.
Grain-Free Rich in Salmon with Sweet Potato & Veg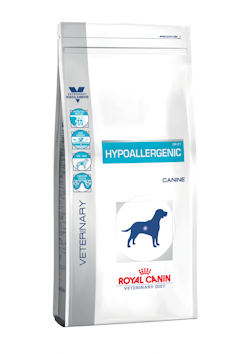 Logic-
As their website mentions this diet can be a part of elimination food trials. They do not recommend this diet for pancreatitis or hyperlipidemia. Ingredients-Oat flour, rice, duck meal, rice hulls, vegetable oil, natural flavors. Dried brewers yeast, potato protein, flax meal, potassium chloride, calcium carbonate, anchovy oil, sodium silico aluminate (
Why all these chemicals?
) salt, vitamin B6, vitamin B1, vitamin B2, folic acid, vitamin B12 supplement, vitamin D3.
Arden Grange Dog food
Now here is this company which claims all their products are naturally hypoallergenic.
Why?
They say their
dog food does contain wheat gluten, beef
(
really?
), soya and dairy products. They use mixed tocopherols (vitamin E) and rosemary to stabilize our food naturally in place of artificial additives.
Taste of the wild
Pasture-Raised Lamb
 – Lamb, the number one ingredient in this formula, is rich in nutrients and energy, and a highly digestible source of protein. Animal Protein- Lamb, lamb meal,  egg product. Plant Protein- sweet potatoes, lentils, peas, pea flour, potatoes, dried yeast, roasted lamb, tomato pomace. Additives - Natural flavor, salmon oil, salt, dried chicory root, tomatoes, blueberries, raspberries, yucca extract (removes body odor).
Hills dog food
Hills dog food also has hypoallergenic dog food range.
How
: Their dog food has more ingredients from plants, without corn, less chicken by-product meal. Key Ingredients are Brewers Rice, Chicken Meal, Whole Grain Sorghum. Whole Grain Oats and Pork Liver Flavor. As evident
none of the hypoallergenic dog food is truly hypoallergenic.
you have to get the right food only by food trials. Beside hypoallergenic dog food, there are hypoallergenic dog breeds as well, dog breeds who suffer less from a skin allergy, have lesser digestive problems. In fact, I am planning an article on that too. keep watching
this blog
.
Do you know hypoallergenic dog food are not totally hypoallergenic!!
Reviewed by
Dr_Suranjan_Sarkar
on
September 23, 2019
Rating: